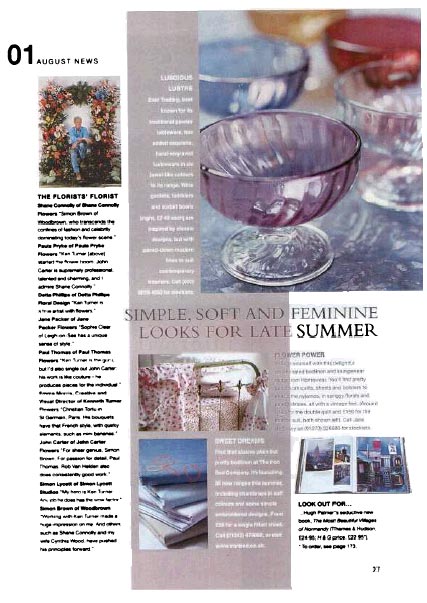 The Florists' Florist
Shane Connolly of Shane Connolly Flowers
"Simon Brown of Woodbrown who transcends the confines of fashion and celebrity dominating today's flower scene."
Paula Pryke of Paula Pryke Flowers
"Ken Turner [above] started the flower boom John Carter is supremely professional, talented and charming, and I admire Shane Connolly,"
Detta Phillips of Detta Phillips Floral Design
"Ken Turner is a true artist with flowers"
Jane Packer of Jane Packer flowers
"Sophie Clear of Leigh on sea has a unique sense of style."
Paul Thomas of Paul Thomas Flowers
"Ken Turner is the Guru but I'd also single out John Carter. His work is like couture - he produces pieces for the individual."
Emma Morris, Creative and Visual Director of Kenneth Turner Flowers
"Christian Tortu in St Germain, Paris His bouquets have that French style with quirky elements such as mini bananas"
John Carter of John Carter flowers
"For sheer genius, Simon Brown, For passion for detail, Paul Thomas. Rob Van Helden also does consistently good work."
Simon Brown of Woodbrown
"Working with Ken Turner made a huge impression on me. And others, such as Shane Connolly and my wife Cynthia Wood, have pushed his principle forward"